Right now....yes RIGHT NOW...I am on the Dr. Dukan diet, which is what Kate Middleton, her mother, and Pippa were all on before the Big Day.
I'm not getting married, but a MOH (Maid of Honor) and the MOH still's gotta look good...just ask Pippa. Ummmm didn't she almost steal the show?
On that note...here's a fat free, super low cal dessert that is pretty healthy for you...
Pretty healthy for you minus the Splenda that is. Nonfat Greek yogurt sprinkled (heavily) with cinnamon (NOT cinnamon sugar) and half a packet of Splenda. It's delish and I am currently obsessed. Did you know that cinnamon is also good for your heart? Just a little FYI.
Since we are on a Dukan track (
http://www.dukandiet.com/
) here's something else FABULOUS that is perfect for it...or perfect for life in general as it's delicious.
La Croix Sparkling water with COCONUT flavor! I love me some coconut and I love la croix (grapefruit in particular) so this combo is FAB! My mind is racing with all the alcoholic beverages I can make with this...one of my all time faves is a vodka soda with a lime using La Croix Grapefruit.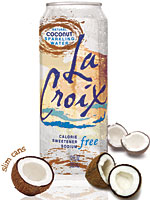 And for something completley at the other end of the spectrum and the Dukan Diet....
Leinenkugel Summer Shandy! OMG this tastes like lemonade...and beer! It is delicious and I suggest you go to the nearest Bev Mo (
http://www.bevmo.com/
) and stock up...or if you live in the Mid-west then you have most likely seen this before and it's not really that cool. I can only wish that right now I was sipping it while sitting on a dock at the lake in the North Woods of Wisconsin or somewhere else gloriously mid-western....sighhhhhhhhhh.
Lastly, I know I rep Planet Beauty boutiques (
http://www.planetbeauty.com/
) pretty hard but check out this polish from Ulta.
yes I really did just put my feet on the internet...












 I am obsessed with this polish...it looks like foil. I was soooo excited to find something that wasn't glittery but more metallic, my roomie even said it looks like those Sally Hansen sheets you stick on your nails. After oogling a woman's feet at the pool (does that sound weird? yes, it does.) I was determind to find something like her gold foil polish and I did! So fab!
Linzo says: DAMN YOU DR. DUKAN! But at least my nails looks good...